Over the last couple of days, Shiba Inu's Bone was making quite some news. The hype around Shibarium came as a big boost to Bone. The asset not only surged in terms of price, but its market value also increased. This further led to the community looking at the other token in the SHIB ecosystem, Leash.
Despite the numerous updates from the Shiba Inu network, Leash witnessed minimal price movements. At press time, the asset was trading for $656.18 with a 2.67% daily drop. This dip came after the asset rose to a high of $689.58.
Additionally, the market cap of Leash was $70,566,863, and it was ranked no. 2704 on CoinMarketCap. Despite being priced the highest among the other assets in the Shiba Inu ecosystem, the market cap of SHIB and Bone were higher than Leash.
Just yesterday, Bone entered the coveted top 100 yesterday. This was after Shytoshi Kusama, the lead developer of Shiba Inu, shared a post about Shibarium.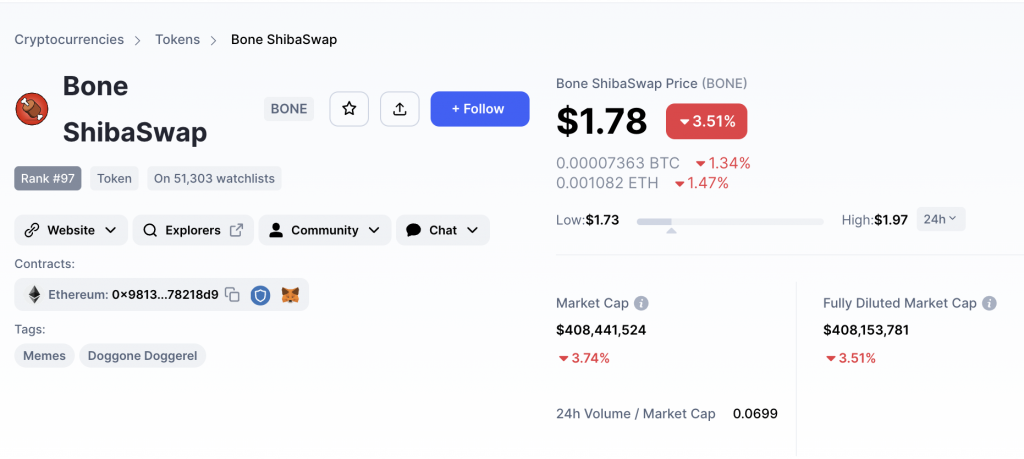 As seen in the above image, Bone's market cap hit a high of $450 million, which pushed the asset's ranking to 97.
Here's why Leash's chances into the top 100 are dull
Bone's latest pump is attributed to Shibarium. Bone will reportedly play an integral part in the launch of the Layer-2 update. Leash, on the other hand, has several use cases. However, its utility is associated with Shibaverse, the Shiba Inu metaverse.
Leash is employed to buy lands on Shibaverse. Sadly, the metaverse has taken a back seat. This particular technology took off in 2022. However, the emergence of artificial intelligence took on the globe, sidelining the metaverse.
Over the last couple of weeks, Microsoft and Meta shut down a unit of its metaverse team. Several believe that this notion would persist putting other metaverse-related projects out of business. Therefore, the decline in the buzz around this tech might restrict the growth of Leash.