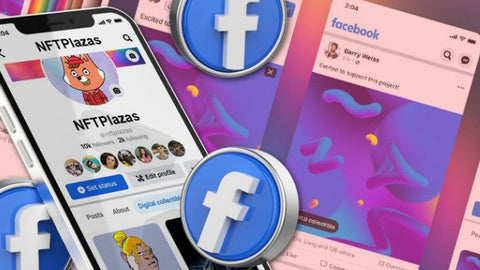 After piloting NFT showcases on Instagram, global social media conglomerate Meta has now began testing the roll out of digital asset functionality on its largest subsidiary, Facebook. To begin with, the test run will enable US-based creators, which are a mere fraction of the platform's near two billion daily users, to display both Ethereum and Polygon NFTs on their profiles.
To give visual insight into the new features, the conglomerates' Product Manager Navdeep Singh took to fellow social media powerhouse Twitter to share a sneak peek into how the digital assets will appear on Facebook's interface. The image shows a  'digital collectibles' tab on users' Facebook profiles, which, when tapped on, showcases the NFTs which reside within the crypto wallet that has been synced to the account.
The NFTs, which, in the future, will also be from the Solana and Flow blockchains, will also be posted on the Facebook timeline, where friends can then react to them through likes, comments, and shares.
The blockchain-infused move comes as part of the conglomerate's goal to convert Facebook into a hub for digital asset-related activity, as it accompanies its plans to redesign its 'Groups' feature into something that emulates the qualities of Web3-adopting (and sometimes problematic) communications platform, Discord.
By Rory | Original link